Shanghai is a cosmopolitan city and as such you can find most kinds of clubs here. Although the selection may not be as great and varied as overseas, it's possible to find jazz, hip hop and LBGT clubs as well as lounges that meet most foreign visitor's expectations of what a club experience should provide. It's just a matter of finding what you like.
How to find clubs
Directories such as smartShanghai are very good at keeping up-to-date listings of clubs and bars, as well as weekly events guides.
Recommended clubs
Bling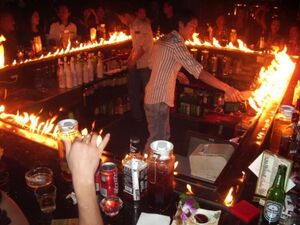 Most clubs perched atop the Bund skyline provide a decadent taste of Shanghai high society. m1nt is known for its shark tank, aloof exclusivity and stunning views. Bar Rouge also fulfils the latter conditions, but watch out for working girls – including foreigners – on the clock. Cover charges may apply.
Hip hop
Local hip hop haven The Shelter has been thumping on for years, and its location makes it conveniently accessible as the night progresses. Friday night at The Geisha entertains with a fun, fresh offering for the Shanghai hip hop scene.
Jazz
JZ hosts an eponymous jazz festival, and soulful live performances can be found there on most nights. The slightly up-market Brown Sugar is another popular jazz club, whereas House of Blues and Jazz and the Peace Hotel Jazz Bar offer a more relaxed, nostalgic lounge atmosphere.
LGBT
Chinese clubs
Chinese clubs are a different affair to those found overseas - including close neighbours South Korea and Japan – due to a number of cultural factors.
Many international rules apply: treat others with respect, be careful with your belongings, and above all - have fun!
Etiquette
A large amount of space is devoted to seating which often surrounds a dance floor. Tables usually invoke a minimum spend and may require a booking on busy evenings. 'Table spend' can be calculated per bottle (usually in the form of Western spirits such as Chivas Regal), or as a monetary amount, so don't just grab an empty seat as you may aggravate staff.
Snacks are common in clubs and in some places may in fact be compulsory as a part of the 'table spend'. Do not be surprised to see ornately-carved fruit platters. Peanuts and duck's necks are also commonplace snacks.
The Chinese palate seems to prefer Chivas Regal mixed with green tea; red wines from different vineyards can also be blended in a single carafe and served on the rocks. If you are adverse to either of these club favourites, speak up early to avoid disappointment.
Entertainment
Bars and clubs have traditionally been associated with vice or excess, so the Chinese mindset often needs a ''reason'' to visit a club or bar. This usually presents itself in the form of entertainment - meaning dancing, games or performances.
Dancing: many clubs will have a dance floor encouraging users to get up and boogie. Be forewarned that in more rural locations the dance floor can actually move or 'bounce' and this may result in injury to less-coordinated readers.
Games: a wide-range of games may be found being played inside the noisy environs of the Chinese club. These usually manifest in card games, dice games, finger games (where fingers are used to guess or bid against other players), or more interactive games similar to the Western party game Mafia (ie. where one player is secretly allocated the role of a 'murderer'). If you strike up a conversation with some new friends playing a game, join in! Chinese are renowned for their hospitality. Beware: the learning curve may be steep, and drinking penalties may be enforced for the loser.
Performances: Chinese clubs will often have a stage in the middle of the club with magicians, acrobats, dancers, actors or any manner of (usually tacky) performer giving a series of shows throughout the night. Sit back at your VIP table and enjoy the show.
Karaoke: Unlike Western-style karaoke where a single microphone broadcasts to all patrons in the bar, Chinese karaoke is a private affair similar to that experienced in other east Asian nations. Many clubs will house karaoke in rooms or booths out the back; be warned that these often serve as veneers for [prostitution] rackets, a trade that remains illegal in China. Expect to pay more for karaoke than you would at a specialist karaoke parlour.
Dangers
Fake liquor
A common threat as difficult to gauge as it is to overestimate is the existence of fake liquor in Chinese clubs. For the young and urban, Western spirits brands provide an aspirational ideal and unfortunately strong liquor is easily replicated using factory-grade or other alcohols. A worst case scenario is extreme health problems leading to blindness.
Inspect bottles before they are served and poured: a common trick is to present the bottle quickly before whipping off the bottle cap and pouring before anyone has a chance to notice the bottlecap seal has already been broken.
Wine is not exempt from counterfeiting; bottled beer however seems to be either too difficult or not worth the expense to replicate and is guaranteed to be safe.
Prostitution
Some commentators consider China to be undergoing something of a sexual revolution akin to what occurred in 1960s Western culture. Beautiful, unknown women approaching you in a club may be genuine in their advances; however such ladies may in fact be prostitutes or students working as 'bar girls'.
Prostitutes are known for targeting foreigners who can be perceived as easier prey due to whatever reasons. It is unlikely that miscommunication will occur here, as such workers are usually able to express services in English. Please note here that the word 'massage' as spoken in the context of a club is always intended as more than ''just'' a massage.
'Bar girls' (坐台 zuò tái) are students working late for a bit of extra pocket money and simply accompany clients while they drink, laughing periodically and leaning suggestively as required. Although not usually expected to perform sexual services, misunderstandings might occur whereby a fee is anticipated for services rendered that may be as simple as half an hour of conversation or occupying a bar-stool.
It is suggested that directing conversation to the question "So where do you work?" can alleviate potential miscommunications early.
Physical safety
Chinese clubs generally feel safer than those in Western countries, but still exercise caution such as visiting with friends and watching your drinks at all times.
Machismo is generally not an issue and if a situation threatens to turn violent it has usually been caused by a foreigner or bouncer (or both). Such offenders are more than likely to be able to communicate in English to some degree, although avoidance and retreat remain the recommended tactics for such situations.
Second-hand smoke
Smoking is encouraged in bars and can become very thick, especially the more 'local' you choose to go.
Patrons with chronic asthma are advised to avoid clubs with poor ventilation.