Indoor Activities
Shopping
Shanghai is a mecca for shopping and as the world increasingly turns online (see: Taobao) for shopping needs you will still be able to find almost anything you like and if it's locally-produced it will be much cheaper than back home.
Shopping Malls
These are everywhere. The more high-end are concentrated on Huaihai Lu and Nanjingxi Lu. Please note that luxury tax at the Chinese border means that goods are often much more affordable down in Hong Kong - a great weekend trip away.
Wholesale Markets
English Books
Shopping for books
Finding English language books doesn't need to be difficult. Garden Books is a licensed bookstore and is perfect for finding glossy coffee table canons as well as books on or about China - for a price.
Pirated copies of recent bestsellers (think Dan Brown, Jobs' biography, Game of Thrones, etc.) are available in paperback format from streetside bookcarts; you can usually find these vendors along Wujiang Lu pedestrian mall and on Donghu Lu.
Loaning books
The Jing'an Community Library (Chinese website only) stocks a selection of English books and magazines and even has a traveling bus. Register for a card with your passport and 100 RMB deposit at the front desk of the library (1702-1708 Xinzha Lu). You'll then be able to use your library card to rent from the traveling library during its weekly rounds between 11:00 and 13:00 at these locations:
Yueda 889 mall (Tuesdays)
Wujiang Lu pedestrian mall (Wednesdays)
Jing'an Park square (Fridays)
Swapping books
Keep an eye out on the board for book-swap threads such as this one - or get active in the community and post your own thread about trading books. You never know what gems you'll be able to find!
Fake Markets
Galleries
See Art Galleries
Karaoke
Massages
Laser Tag
See Laser Tag
Arcades
Go-karting
See Go-karting
Outdoor Activities
Parks
Shanghai is one of the greenest cities in China, with tranquil inner-city oases spread throughout the city. There are also a number of large-scale forest/park areas that make for a good day trip or picnic location. Besides the highlights listed below, check out this City Weekend guide.
Inner-city Parks
These are smaller green areas around town where you'll catch early morning tai chi and fan dancing. Follow the links and check the maps to see if one of these is near you:
Xuhui Binjiang - an amazing open-plan area with a mini-skatepark, bouldering wall and running track situated on re-purposed docks
Larger Forest-Park Areas
Swimming Pools
Live Sports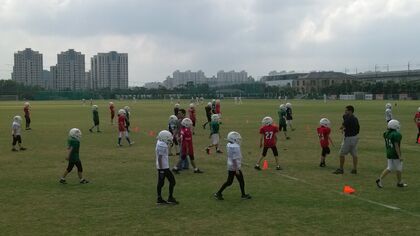 Shanghai has a lot of sports leagues springing up and expat participation is usually high. Try googling Shanghai +whatever sport you'd like to play and join a local club. Redditors are involved with rugby, cricket, soccer, softball, American football, basketball, lacrosse, ice hockey, boxing, tennis, ultimate frisbee and both Hash Harriers / RunnersHai for runners.
Many basketball courts charge a fee to use the hoop and due to land scarcity some resource intense sports can command relatively high fees. Use of pitches/courts is generally timed and regulated quite strictly.
Please check these recent /r/shanghai threads for more info:
Theme Parks
Day-trips
Water Towns
Zhujiajiao
Tongren
Islands
Hangzhou
Suzhou
Changzhou