Shanghai is the major transport hub of east China, with four major railway stations and two of the top four largest airports in mainland China.
As an Asian hub it is well-positioned for travelling both into the Chinese hinterland and throughout the Asian region.
Visas and permits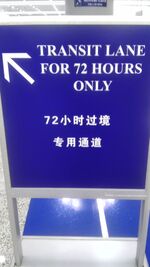 Most readers of this wiki will require a visa to enter China, and a quick guide to getting tourist visas is the first step to getting here. Be aware that visa rules can change quickly and without warning, depending on the political climate. As always with everything in China, have a bank of passport-sized photos at the ready, as well as the inclination to fill in forms and deal with red tape. Always remember: TIC!
72-hour transit visa
In early 2013, Beijing relaxed the regulations for transit visas concerning passengers transiting onto international flights at Shanghai and Beijing. Nationals from 45 countries who meet certain criteria now enjoy the privilege of a 72-hour transit visa available on arrival into these two airports.
The 45 countries who qualify for the 72-hour transit visa are the following: Argentina, Austria, Australia, Belgium, Brazil, Brunei, Bulgaria, Canada, Chile, Cyprus, Czech Republic, Denmark, Estonia, Finland, France, Germany, Greece, Hungary, Iceland, Ireland, Italy, Japan, Latvia, Lithuania, Luxembourg, Malta, Mexico, Netherlands, New Zealand, Poland, Portugal, Qatar, Romania, Russia, Singapore, Slovakia, Slovenia, South Korea, Spain, Sweden, Switzerland, United Arab Emirates, Ukraine, United Kingdom, and the United States.
If claiming entry on this visa, ensure you have an ongoing/transit ticket to a third location. Return tickets to the port of origin are not eligible for claiming this visa and you will in all likelihood be denied boarding your flight for Shanghai.
Please note that this visa is still relatively new and there may be confusion about processes when arriving at Pudong airport. Remain calm, try out some of the phrases below, and look for the sign in the image above.
Airports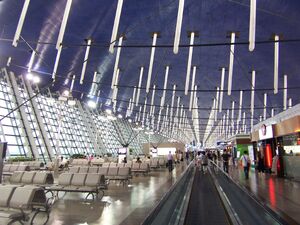 Shanghai Pudong International Airport (PVG) and Hongqiao International Airport (SHA) both have two terminals and both fly domestic and international routes.
Hongqiao airport connects international travellers to nearby capitals' secondary (urban) airports: Taipei Songshan, Tokyo Haneda, Seoul Gimpo, as well as Hong Kong International Airport. Hongqiao airport merges air transport with high-speed rail as it connects with Shanghai Hongqiao Railway Station at the Hongqiao hub.
If arriving at Pudong Airport between 6:45am and 9:30pm, consider catching the Maglev into town. At just 40 RMB for a truly unique (and rapid) experience, it's a bargain.
Pudong Airport is served by metro line  2 , and Hongqiao Airport by lines  2  and  10 .
Railway stations
Shanghai has four main railway stations: Shanghai Railway Station, Shanghai South Railway Station, Shanghai West Railway Station, and Hongqiao Railway Station. It is essential that you clarify which station you mean when buying tickets and travelling to the station. Each of the four main railway stations connects to at least one or more lines of the metro:
Station name (English)
Station name (Chinese)
Lines
Shanghai Railway Station
上海火车点 - shànghǎi huǒchē diǎn
 

1

   

3

   

4

 
Shanghai South Railway Station
上海南站 - shànghǎi nán zhàn
 

1

   

3

 
Shanghai West Railway Station
上海西站 - shànghǎi xī zhàn
 

11

 
Hongqiao Railway Station
虹桥火车站 - hóngqiáo huǒchē zhàn
 

2

   

10

 
High speed rail trains arrive and depart at Hongqiao railway station, and high speed rail tickets are denoted by the prefices 'G' and 'C'. Other letters signify slower trains and in reality you really only want to consider C, D, G, Z, and at the very worst, T trains.
Purchase of tickets at a ticketing office requires a passport or valid identification and is sometimes restricted to a week or so prior to date of travel.
For a comprehensive reference detailing absolutely everything about the passenger train experience, this FlyerTalk Forum thread is a must-read.
As of April 15th 2013, cTrip now sells select train tickets online (G & D class only), with delivery restricted to areas within the outer ring of Shanghai. A surcharge is levied for train tickets booked here (40 RMB for the first ticket; 20 RMB per ticket thereafter), and you will need to enter passport details. Next-day delivery is only guaranteed for orders before 1pm.
Long-distance bus
The Shanghai long-distance bus station mainly services smaller cities in the surrounding surrounding provinces, but farther afield destinations such as Qingdao are also available for the sadist. A myriad of smaller independent long-distance bus stations can be found scattered throughout the city and Chinese language skills are definitely required to unlock the mysterious potential of short to medium-distance rural travel.
Lingo
单程票 (dānchéngpiào) one-way ticket
往返票 (wǎngfǎnpiào) return ticket
一张~/两张~/三张~ (yīzhāng~/'èrzhāng~/sānzhāng~) 1 / 2 / 3 (ticket/s)
几点钟出发? (jǐdiǎnzhōng chūfā?) What time does it depart?
我国享受七十二小时免签证 (wǒguó xiǎngshòu qīshíèr xiǎoshí miǎn qiānzhèng) My home country enjoys a 72-hour visa exemption (at Shanghai Pudong International Airport)