Sights and scenery
The Bund
One of the main attractions for Shanghai is the well-preserved riverside strip known as The Bund (外滩 - wàitān). Recent development work has opened up this beautiful public area and the juxtaposition of 19th century stone architecture and 21st century glass skyscrapers on opposing sides of the Huángpǔ river is striking and remarkable. Daytime strolls along the length offer dramatic contrasts with the nighttime vistas. Watch out for hawkers and scammers when visiting and take care of your belongings - this is tourist trap neighbourhood. A walk along the length of the Bund, a photo of the Oriental Pearl Tower and a cocktail at one of the fancy bars across the street are must-dos for any Shanghai visitor.
The Bund is also home to many of the city's most luxurious and opulent hotels, bars, and international restaurants. Many of these places have balconies offering incredible views of the city. Some particular recommendations for high rollers:
The Fairmont Peace Hotel (20 Nánjīng Dōng Lù) - Built in 1929 and re-opened in 2010 after extensive refurbishment, the Peace Hotel is "the stuff of Shanghai legends, with a story that mirrors the city's own: glamour central in its 1930s heyday, subdued but never wholly suppressed in the years that followed, only to reemerge as a brighter, better, and bolder incarnation of its former, glorious decadence". Be sure to check out the Peace Hotel Jazz Bar inside, which features one of Shanghai's oldest jazz bands. You can read more about the hotel here.
M on the Bund (Five On The Bund, 7F, 20 Guǎngdōng Lù) - The original Bund restaurant. Built in 1999 by Australian restaurateur Michelle Garnaut. Soon, plenty of other wining and dining spots opened on the back of M on the Bund's success. The food is an "eclectic mix of European, North African and Australian flavours", and remains a very popular location for locals and tourists alike.
Mr and Mrs Bund (Bund 18, 6F, 18 Zhōngshān Dōng Yī Lù) - Chic, classy yet relaxed modern French eatery by Shanghai-famous chef Paul Pairet. Open until 4am on Tuesday to Saturday nights.
Nougatine (Three On The Bund, 3F, 17 Guǎngdōng Lù) - French chef Jean Georges features a beautiful, classy interior and top quality haute cuisine experience. You're looking at about 1000 RMB a head for dinner.
Mercato (Three On The Bund, 6F, 17 Guǎngdōng Lù) - Another Jean Georges restaurant, Mercato offers contemporary Italian cuisine in a modern yet rustic environment. The food, while pricey, is more wallet-friendly than the quality would imply.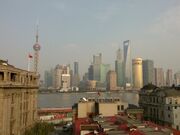 There are also several modestly priced establishments that will allow you to sit down and enjoy a decent meal, a drink or two, and a beautiful view of the skyline without overcharging you:
Captain Hostel (37 Fúzhōu Lù) - This ship-themed hostel is definitely a budget option, but its rooftop bar offers a fantastic view of the Pudong skyline while you enjoy reasonably priced beers, cocktails, and spirits.
All of these places are a 5-10 minute walk from Nánjīng Dōng Lù subway station (lines  2  and  10 ).
Observation Decks
Shanghai's observation decks are a great activity to do on a clear day, and something that anybody visiting or living in Shanghai should do at least once. Get there just before the sun starts to set and stay for an hour or so, and enjoy watching Shanghai enter night mode from an incredible vantage point, as the cars, street lights, and buildings are all gradually illuminated.
Here are the 'big three' observation decks in Shanghai:
Name
Deck height
Opening times
Price
Shanghai World Financial Centre
aka "SWFC" or "the Bottle Opener"
上海环球金融中心
shànghǎi huánqiú jīnróng zhōngxīn
474m / 1,555ft (100F)
439m / 1,440ft (97F)
423m / 1,388ft (94F)
8am–11pm
150 RMB (94-100F)
120 RMB (94-97F)
100 RMB (94F)
Jinmao Tower
金茂大厦
jīnmào dàshà
340m / 1,116ft (88F)
8:30am–10pm
88 RMB
Oriental Pearl TV Tower
东方明珠塔
dōngfāng míngzhūtǎ
350m / 1,148ft (S3)
263m / 862ft (S2)
90m / 295ft (S1)
8:30am–9:30pm
220 RMB (S1/S2/S3)
160 RMB (S1/S2)
120 RMB (S1)
All three buildings are easily accessible from Lùjiāzuǐ metro station on line  2 .
If it's your birthday (and you bring along your passport to prove it), your ticket for the 100th floor observation deck on the SWFC is free!
Another good tip for the SWFC is instead of going to the observation deck, go to the Park Hyatt's 87th floor bar instead. You'll save the 100-150 RMB on the observation deck tickets (which you can then spend on cocktails and nibbles), and even though the bar is more than 10 floors below the 100th floor observatory, you'll still get fantastic views of the city.
Bund Sightseeing Tunnel
Apparently one of Shanghai's top 5 tourist attractions (and definitely one of the most surreal), the Bund Sightseeing Tunnel (外滩观光隧道 - wàitān guānguāng suìdào) is a slower, more expensive, and altogether stranger way to traverse the Huangpu river than simply taking line  2  on the metro.
Describing the Bund Sightseeing Tunnel doesn't really do the experience any justice - possibly the best description is that "it's so bad, it's good". Nevertheless, it's still worth experiencing, if only for the bizarre, kitsch hilarity of it all. Basically, it's a 5-minute journey through a tunnel through various different 'scenes' created by the accompanying seizure-inducing lights, sounds, and wacky inflatable arm waving puppets. You traverse these 'scenes' (such as 'nascent magma', 'space swirl', and 'fossil variants') in a mostly transparent carriage on rails, and emerge on the other side of the river, hopefully bemused and none the wiser.
The entrances to the Bund Sightseeing Tunnel can be found in Puxi along the Bund (351 Zhōngshān Dōng Yī Lù) and in Pudong in Lùjiāzuǐ (2789 Bīnjiāng Dàdào). Tickets cost 40 RMB (more than 12 times the equivalent metro fare) for a single trip and 55 RMB for a return, and the tunnel is open from 8am to 10pm (10:30pm May-October).
Former French Concession Area
This large area covers the meandering network of streets across Xuhui and Yangpu districts that was sectioned off for the French Consulate in Shanghai. Great foresight saw sycamore trees planted along both sides of the street by French officials, offering respite from the summer heat and affording a lush leafy backdrop against which to roam these idle streets.
The area is known for boutique shopping and the classic Shanghai long-/nong-style of alleyways and architecture (also known as longtang-culture 弄堂文化).
It's best navigated by bicycle and it's recommended that you do not have any carefully drawn-up plans; half of the adventure is in discovering your own take on this vibrant Shanghai quarter, so point your bicycle down the nearest tree-lined avenue and try your luck.
Double-decker Sightseeing Bus
The best way to see most sights listed on this page is on one of the double-decker sightseeing buses that have become popular recently. Students can pick up a few beers and drink their way through sights; parents with kids can sit on the open-air deck and take photos with ice-creams. At time of press, tickets on the cheapest bus are 27 RMB for unlimited access along the route within a 24-hour period.
The coverage this tour gives as well as the price and general service standards make this a great introduction to the city. It's also the perfect back-up plan for when you have friends and family visiting town but don't know how to entertain them.
Click here for more details about catching the bus including pick-up and drop-off locations, the route, and operating hours. TimeOut Shanghai also has good coverage about services and information.
Museums
Shanghai Urban Planning Museum
100 Rénmín Avenue, People's Square / 人民大道100号 | +86 21 6318 4477
9am–5pm Tuesday–Sunday | 30 RMB admission
Official site | Map | People's Square  1   2   8 
Located in People's Square on the corner of Rénmín Dàdào and Xīzàng Lù (opposite the Raffle's City shopping mall), the Shanghai Urban Planning Exhibition Centre is a six-story building exhibiting Shanghai's urban development through the past, present, and future. The museum is great for those who are interested in learning more about Shanghai's beginnings, its history, and how much it has grown since its development really accelerated in the early 1990s.
However, the main exhibit that everybody can enjoy is a remarkably detailed scale model of the city that takes up an entire floor of the building. While there are supporting pillars that block certain areas of the city, most of Shanghai's core is well-represented and periodic updates to the model mean that it's kept more or less up to date.
Propaganda Poster Art Centre
Room B-OC, Building 4, 868 Huàshān Lù, Xuhui / 华山路868号 | +86 21 6211 1845
10am–5pm daily | 20 RMB admission
Official site | Map | Shanghai Library  10 
This museum might not be included in all of the official tourism literature, but it's certainly well worth a look. Propaganda art collector Yang Pei Ming has amassed an impressive collection of over 5,000 Chinese propaganda posters, with many of them available as prints (prices start around 250 RMB). The posters, many of which were rescued from rubbish bins and recycling centres, span from before the founding of the PRC in 1949 up until the end of the Cultural Revolution in the 1970s.
The location of the museum and lack of signage can make it a little hard to find: it's actually in the basement of an unassuming residential building on Huàshān Lù. Enter the compound from the entrance on Zhènníng Lù (if asked by a guard, simply tell them you're looking for the museum and they'll hand you a card with a map and directions). Find building B and hop in the elevator to the basement level.
Science & Technology Museum
2000 Century Avenue, Pudong / 世纪大道2000号 | +86 21 68542000 ext.6888
9am–5:15pm Tuesday–Sunday | 60 RMB admission
Official site | Map | Shanghai Science & Technology Museum  2 
Art Galleries
Shanghai harbours aspirations of rivalling Beijing in the Asian modern art stakes, and a casual stroll around the former French Concession or the Bund offers something of a free tour of modern architectural styles. However, Shanghai also plays host to many inspiring collections of fine art and has staged many influential exhibitions featuring works from all corners of the globe.
Mògànshān Lù / 莫干山路
The compounds at and around 50 Mògànshān Lù offer an immediate and accessible peek into the modern Shanghai art scene. This walk-through collection of countless galleries housed inside renovated buildings and warehouses is similar in style (if not scope) to the famed 798 Art Zone in Beijing, and even has rare spatters of graffiti and street art decorating the surrounding walls. Sandwiched between a charming park and the curves of Suzhou Creek, the Moganshan Lu area is a highly recommended inside/outside afternoon excursion for all visitors to Shanghai with an eye for modern art.
Museum of Contemporary Art (MOCA)
People's Park, 231 Nánjīng Xī Lù, People's Square / 人民公园 南京西路231号 | +86 21 6327 1282
10am–9:30pm daily (10am–10pm Wednesdays)
Official site | Map | People's Square  1   2   8 
Conveniently nestled inside the park at People's Square, MOCA is the place to see touring exhibits from the world's best. The rooftop bar and ancillary art and cultural spaces enhance the experience, but expect queues to form quickly on weekends and public holidays if there's a major exhibition running.
Rockbund Art Museum
20 Hǔqiū Lù / 虎丘路20号 | +86 21 3310 9985
10am–9pm Thursday–Saturday, 10am–6pm Tuesday/Wednesday/Sunday
Official site | Map | East Nanjing Road  2   10 
Situated at the north end of the Bund, the Rockbund area itself has the appearance of a museum, with plenty of examples of classic Victorian architecture. The Rockbund Art Museum is located about halfway up this tranquil street in an immaculately restored art deco style building, and hosts some of the hottest and most impressive contemporary art collections in Asia. The Rockbund Art Museum also hosts many lectures and other events with guest speakers. Casual dress is not advised.
Other Galleries
A wide variety of boutique galleries await your discovery all over Shanghai, often in locations that might seem surprising. Click here for a list of shows currently exhibiting in Shanghai, and follow this link for an incomplete list of popular galleries around town. Besides Moganshan Lu and Rockbund galleries, a large number of galleries can be found spattered around the Bund and former French Concession areas.
Laowai Lingo
画廊 - huàláng - gallery
这幅画表现不同性质的东西方国家对于印象主义的不同态度 - zhè fú huà biǎoxiàn bùtóng xìngzhì de dōngxīfāng guójiā duìyú yìnxiàngzhǔyì de bùtóng tàidù - This painting encapsulates the differing attitudes to impressionism resident in occidental and oriental societies.
Water Towns
Zhujiajiao
Xitang
Wuzhen
Tongli