A mobile phone is a must-have weapon in the arsenal of anyone planning to get anything serious done in Shanghai. With more than 920 million mobile subscriptions, Chinese mobile phone numbers are 11-digits long and can take a while to commit to memory. Here's how you can join in the action:
SIM cards
Redditor /u/kylesuo has written a comprehensive guide to the different networks and plans available here, over in /r/china.  We recommend perusing this guide first for the basics.
China has 3 networks to choose from:
China Unicom is recommended for those who want faster mobile data - China Mobile's 3G network is not compatible with phones from outside of China, as it is a proprietary standard made for China. Meanwhile, China Unicom's 3G network works with any standard unlocked smartphone.
China Unicom's mobile data network is also faster, with HSPA+ recently launched in several of the larger cities in China (including Shanghai).
The main advantage of China Mobile is that their coverage is superior to that of Unicom and Telecom. While the difference is largely negligible in urban areas, China Unicom users might struggle to find a signal in more remote, rural locations.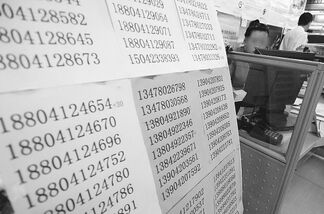 You can pick up a SIM card from most small shops and streetside newsagents - look for the word "SIM" or "SIM卡" (
SIM kǎ
) written outside, or look for a board with a list of 11-digit numbers (see picture above). These are the available numbers and will vary in price according to how memorable or 'lucky' they are perceived to be. It's possible to buy a SIM card for the amount of stored value on the card, e.g. 50 RMB for a SIM with 50 RMB of credit preloaded. You can also buy prepay top-up cards at such stores, or any convenience store - just make sure you purchase a card for the correct network.
While such numbers bought 'off the street' are fine and fit for making calls, they are not strictly legal as all mobile devices must be registered with your telecoms provider according to Chinese law. To do this, you'll need to take your passport into your nearest network provider branch, and register your phone. While you're doing this, you can also activate mobile broadband on your phone. There are a dazzling array of packages launched every month, so be careful to select the right one that fits your needs.
Mobile Phones
Mobile Phones, like SIM cards, can literally be picked up 'off the street' - but as is the case with buying all electronics in China you will want to do your research beforehand, buying only from a reputable or recommended source and thoroughly checking all aspects of the software and hardware to make sure that it is fit for purposes. If you already know what model you want, buying a phone on Taobao is relatively safe, though make sure to take the seller's rating into consideration. Like with anything else, if a deal looks too good to be true, it probably is. There are also plenty of other options for buying phones online, such as the popular Chinese online retailer jd.com.
The Android operating system has been a boon for Chinese phone manufacturers as they now have reliable operating systems around which to design and build mobile phones. While HTC is pretty well known, other Chinese brands such as Xiaomi or ZTE may sound foreign, but are just as reliable (if not more powerful in some regards) than brands already established in western countries.
A good place to start shopping is at the Pacific Digital Plaza or Metrocity, or one of the other electronics markets in Xujiahui. For greater selection and an even more authentic Chinese experience, head towards Shanghai Railway station (metro line  1 ) and dive straight into the mammoth 5-story Da'ao Communications Shopping Mall at 547 Tiānmù Xī Lù (天目西路), which specialises in selling and repairing mobile phones. For more information on places to pick up a phone and other electronics, check out the article on electronics markets.